Last night the 2017 SAG Awards aired, which means another chance for stars to make their mark on the red carpet. While I didn't get a chance to watch the show itself, I have done a thorough review of the wardrobe wins and fashion fails of the evening.
Unlike the Globes, where many usually on point icons were off their mark, the SAGS provided a plethora of Best Dressed nominees. I was pleasantly surprised by the variety, from suits to prints to shear and barely there, there was something for everyone.
Of course, even among all these bright stars, there were some that just fell flat. So lets start with those!
Winona Ryder:
While some bad looks do not have any explanation, this one clearly does. Winona obviously was feeling nostalgic and decided to take a time machine back to 1988 where she borrowed her wardrobe from her Beetlejuice dressing room. While not a wise decision at least we have an answer!
Busy Phillips:
Unlike her partner in crime, Michelle Williams, who redeemed herself from her horrible pilgrim costume that she wore to the Globes, Busy decided to taker her turn on the worst dressed list.  I love a good glittery gown, but I look at this and think "Limited Too is calling, they want their purple camo back!" Seriously, I'm pretty sure I had a pair of cargo pants in this fabric circa 1998. To her credit, her hair and make up look great! But, the dress has got to go.
Salma Hayek:
Oh Salma, so close, but so far away. Her body looks lovely, hair and make up are beautiful too, but this dress, it is the dress that I have seen on many a Barbie birthday cake.
I mean, can you deny the resemblance? If anything, this is certainly not a red carpet gown. She might have gotten away with this if she wore it to a beach wedding? But, then again, I still think I would see the cake.
Emma Stone:
This pains me. Emma Stone is a beautiful woman. She always comes dressed to impress. Not to mention her talent. But this…OOF! What happened? It looks like the pins let loose on one side and the fabric fell down, leaving us with nothing but her Spanx! Besides just being ugly, this dress does nothing for her figure, with that belted portion hitting in a spot that makes her hips look much wider. Is it just me? Or is it also too short? Ugh, why oh why does bad fashion happen to good people?
Now for the good stuff!!
Sophia Vegara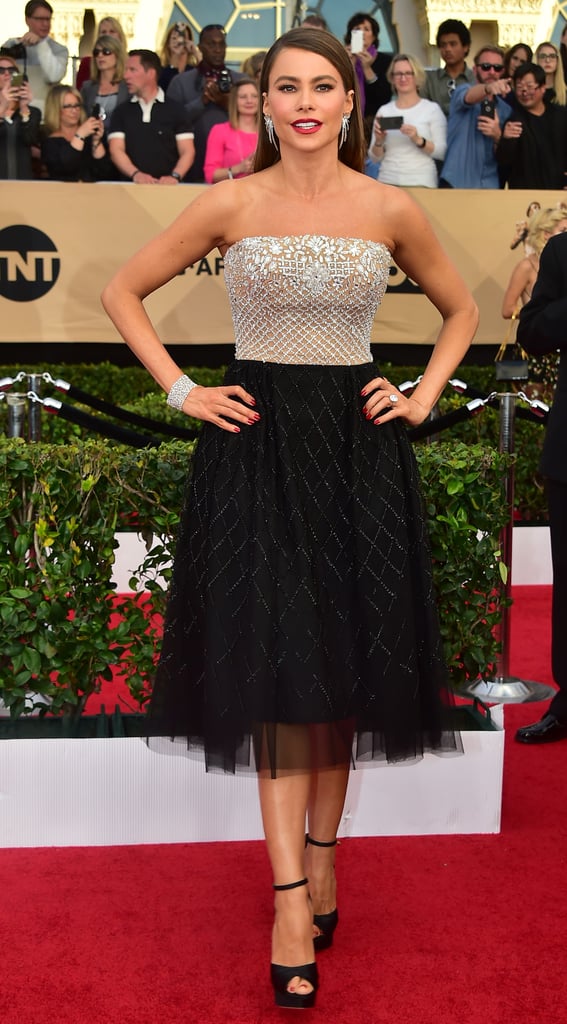 Sophie Vegara has been switching up her look lately, and I love it! Gone are the body-con va-va voom dresses and in are the feminine and romantic. And, being that she is ageless and flawless, she can pull of both looks with ease. However, her new looks are really breathtaking. This dress is classic, simple, and light, and just lets her natural beauty be the focus. Her hair and make up are so elegant as well. The only thing is I might have added a necklace, as its a tad bare near her neckline, but over all, stunning!
Thandie Newton:
I feel I will probably have people disagreeing with me on this pick. I get it, the images at the bottom make zero sense. But if we could look past the crazy images, there is a gorgeous dress underneath!. The shape and fit are beautiful, the sparkle is great, I'm in love with that collar! So please, just squint past the odd Persian style horses, the crows, and the random Ferris wheel, won't you?  Because her skin, hair, makeup, and confidence, make up for them!
Nicole Kidman: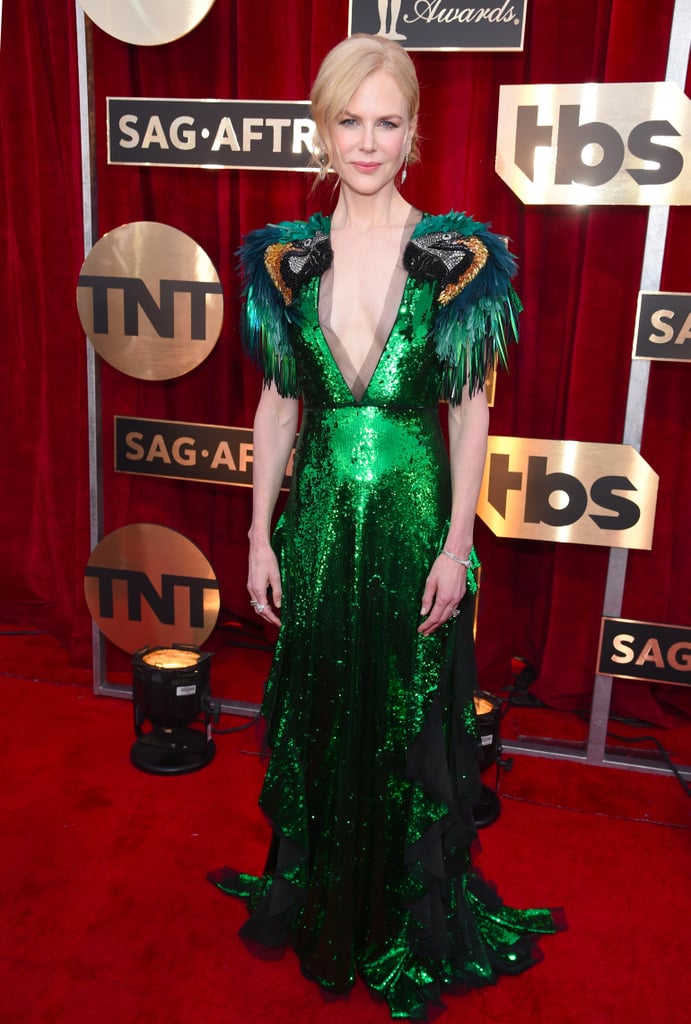 Thank you beautiful Nicole for getting back on track. The Globes was not your finest moment, but this heals all wounds! The color does all the right things for your skin, the feathers are a stand out, but not over the top, and the frills at the bottom are giving me great movement and texture! I feel like she looks like some wonderful Amazon queen, parrot armor and all!
Mayim Bialik:
And my best dressed for the evening goes to Mayim Bialik, because I want to live in the dress right now! The fit, the color, the sheen, the shape, the EVERYTHING! She looks like she is wearing the most luxurious wrapping paper, and she is the beautiful gift inside.  But seriously, where can I get this dress. I'm obsessed!
Can't wait to tune into Fashion Police and hear their take tonight! Bring on the rest of awards season!