Last night was the 2017 Grammy Awards.  Some stars came to rock, while others I would have liked to see be rolled right out the door. As always, lets start with the bad and the ugly.
Jennifer Lopez
Well all I can say is J. NO! For starters that color has got to go. This is the Grammy Awards, not brunch with Grammy! That pastel hue has no edge, no femme boss power. It is putting me to sleep. And then, obviously there is that  neck line. It looks like she was walking past a circus tent during high winds and someone's cotton candy flew by and stuck on her. I like her shoes? But not nearly enough to save this.
2) Nick Jonas
My first male review because I just can't understand this. He looks like a gay Johnny Cash. The Bedazzler needed to stay in the the attic with the rest of the 80's memorabilia. And why, when you have one of the most gorgeously ripped bodies on the carpet do you wear a tee shirt so large it looks like he just came from the Biggest Loser ranch? Not to mention that the rhinestone cowboy jacket, while being stand alone ugly, is also too big and boxy. Ugh, has he never heard of the KISS method? Keep It Simple, Stupid! Should have worn a suit.
3) Tori Kelly
Tori, Tori, Tori. This is not cute. The layers make you look wide, the neckline looks like a tissue box cover, and overall this just looks sad. Did no one remember that the Grammy red carpet is a time to have a little fun with fashion? This dress is safe and blah and does not scream Diva. Keep dressing like this and your voice won't be able to keep you a float. You have to look the part too!!
4) Katy Perry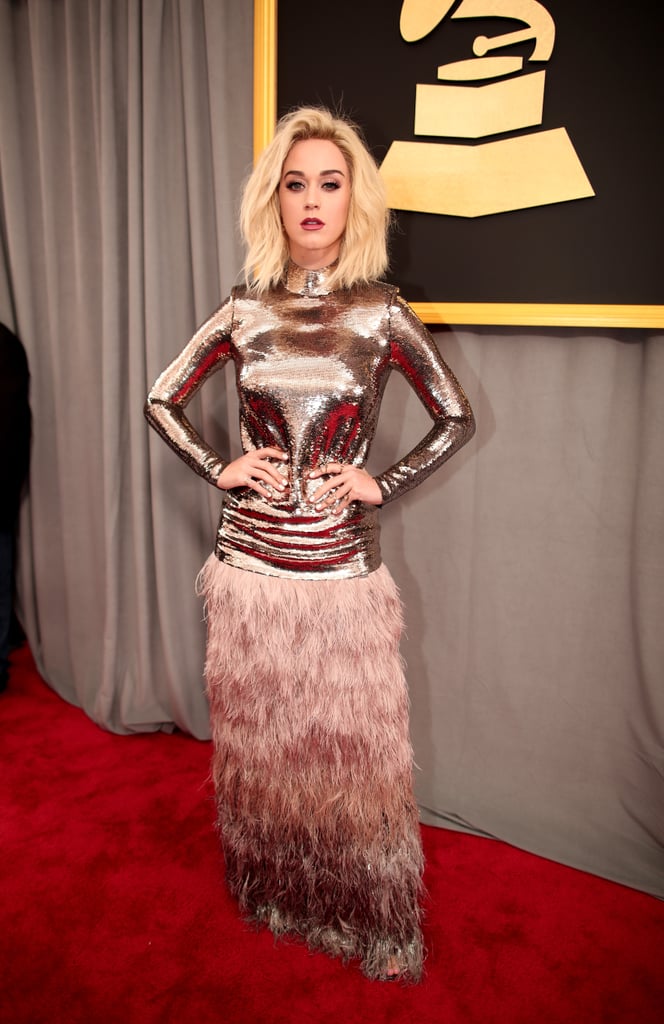 I don't even really have words.  I was not aware that she was here to promote the new Beauty and the Beast film, but…
Thankfully there was some good
Demi Lovato
While I loathe the Kardashians, Demi keeps wanting to dress like one, and I am surprisingly OK with it. This fits her impeccably, her hair and makeup are flawless, and while there is a lot going on here, somehow it doesn't seem like too much. Well done Demi! Keep doing you!
2) Adele
Adele loves to dress like Lady Grantham and I love every minute of it. Her mother-of-the bride style somehow works. She always looks gorgeous and always picks something that glides over her shape in all the right ways. This is no exception. This dress would literally be completely unacceptable on anyone else, but on Adele, it works!
3) Halsey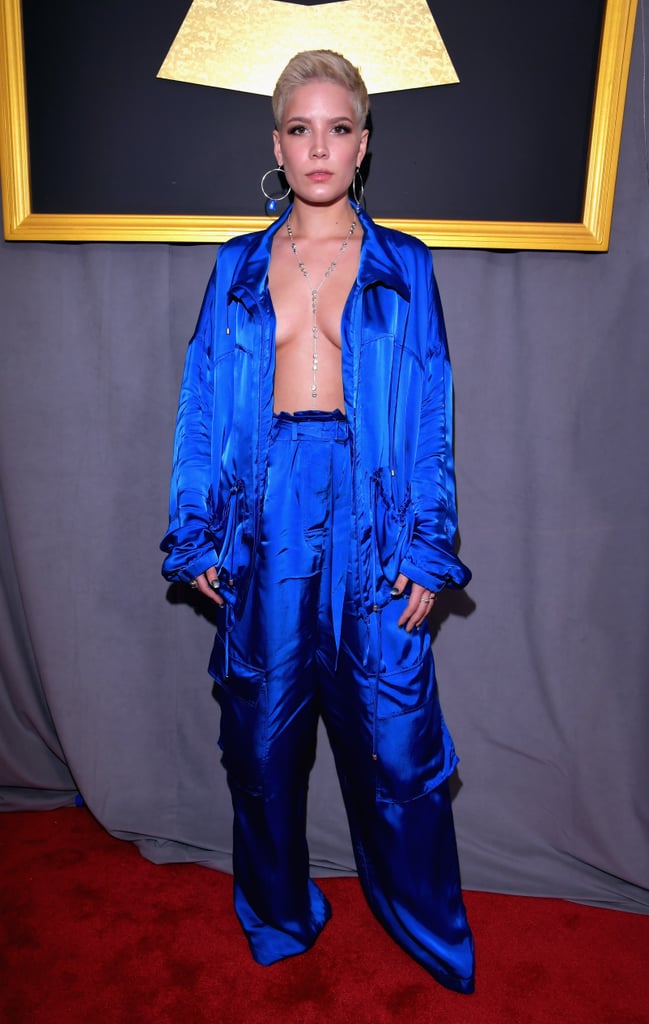 I am in love with this look in  so many ways! She said she wanted to do an early 90's/TLC throwback, and she nailed it! Her hair and make up look great, this color looks great, and this is the edge that I demand from the Grammy red carpet! She had fun with fashion and took a risk, and I wish I could pull this look off! Although have to say, it apparently did not photograph well, as this looks rather wrinkly.
4) Lady GaGa
At first I wanted to hate this. GaGa stepped onto the carpet, and I was a bit taken aback because I thought GaGa may be past this phase, as many of her latest awards shows she has gone the Hollywood glamour look. But then, I fell in love, because this is classic GaGa that we all know and love, it had the edge of a music super star, and was such a fashion moment. All hail Lady Gaga for bringing this award show to life!