While everyone else was busy watching a football game, I was focused on what time the Screen Actors Guild Awards red carpet started, because, priorities, am I right? Thankfully we were spared the mourning-wear of the Golden Globes on this red carpet, and there was a lot of interesting fashion, most of it actually very good! In fact I only could find 3 cringe-worthy looks instead of my usual 5. To even it out a bit, I have 6 stand outs. Lets begin!
The Bad
Allison Janney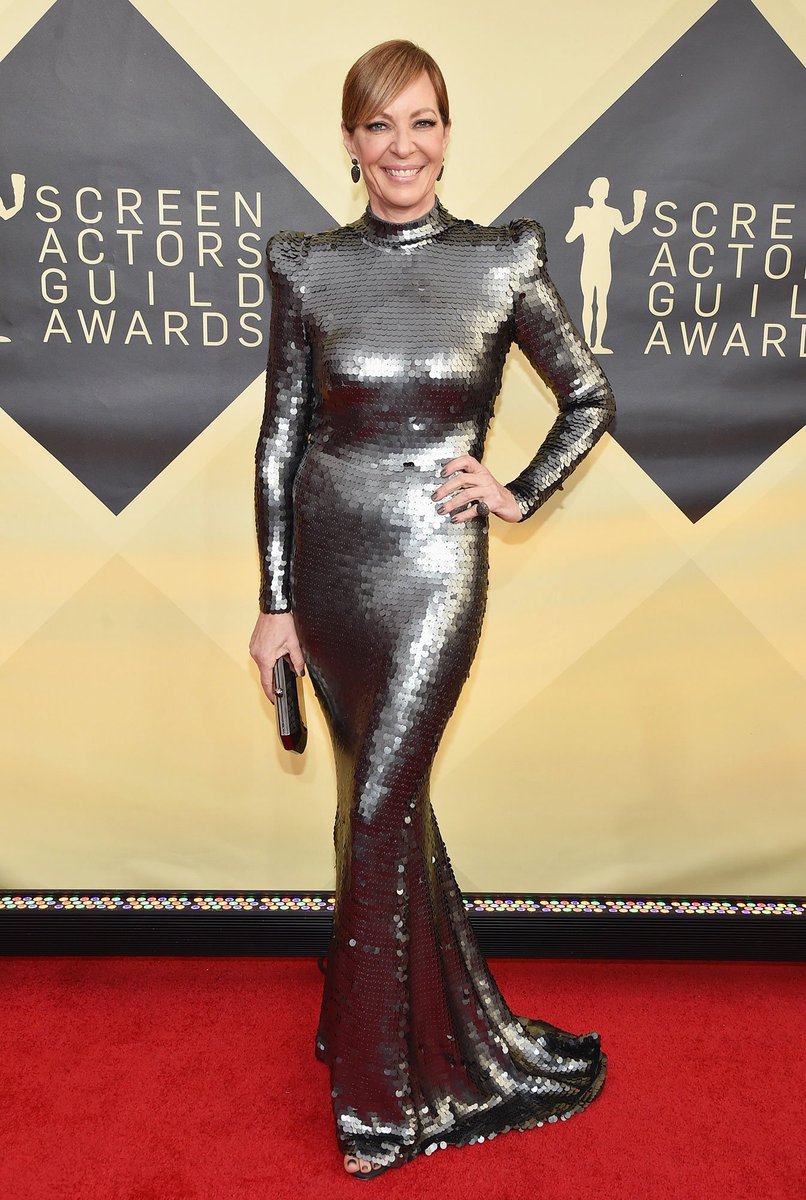 Well good for you Allison Janney, you took home the one of first awards of the night. However it was not for this dress. While there were many head to toe sequin dresses on the carpet, this one missed the mark. The mock turtleneck and shoulder pads are not the details one should be to adding to a gown. On top of that, the silhouette does nothing for her shape. The tin man's heart is breaking over this sad silver sight.
Kate Hudson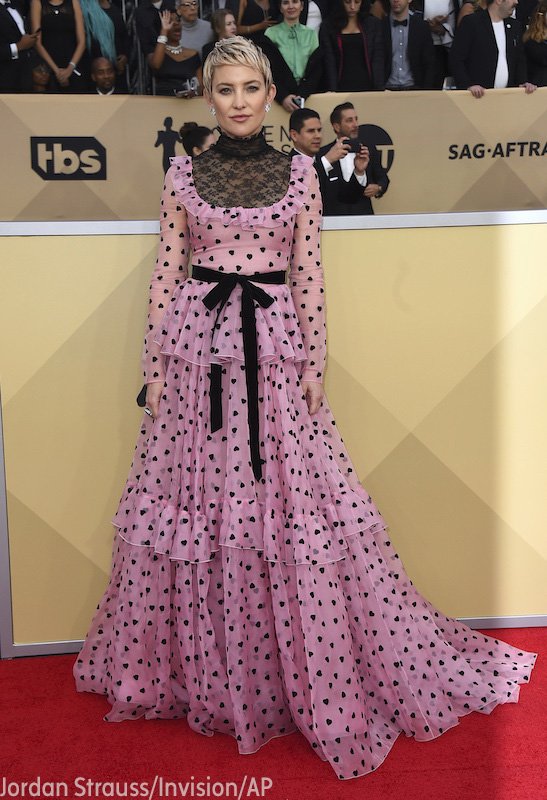 So I am totally feeling Kate's new 'do, but this dress is one of the mos atrocious things I have ever seen walk down a carpet. Seriously what is that? Between the color, the ruffles, the frumpiness, the bow, I mean please burn this straightaway! I think we can all take one look at this and agree this is some kind of scary nightmare version of Kate. Kate, please wake up and come back to earth!
Saoirse Ronan
As Kimmy Gibbler would say "Sweet Cheese!" What in the world is going on here? She looked so beautiful last time, I can't understand what happened.  What I think happened is she was in a hurry and tore down the shower curtain, wrapped it around with a shoelace, and slapped on some glittery duct tape for some added flair.  Her face says it all, this dress is miserable!
Now some good!!
Danielle Brooks
Now I don't watch Orange is the New Black, but my eyes were on Danielle Brooks. This beautiful ombre toned dress was extremely impressive and not something that I had seen before. The silhouette framed her perfectly and her and makeup were expertly crafted.
Millie Bobby Brown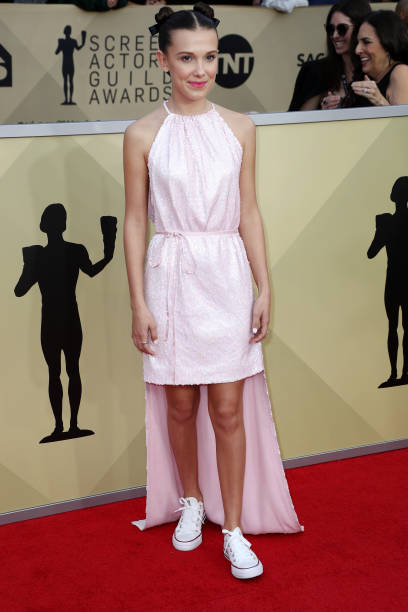 Millie Bobby Brown's fashion game is so strong I am in awe. Lest us all forget that she is only 13! This look definitely sticks more to the age appropriate side than her last look did, but that does not dial down the fashion moment at all. I love her double buns, her simple make up. Not a huge fan of sneakers on the red carpet, but you can do what you want when you are 13!
Kristen Bell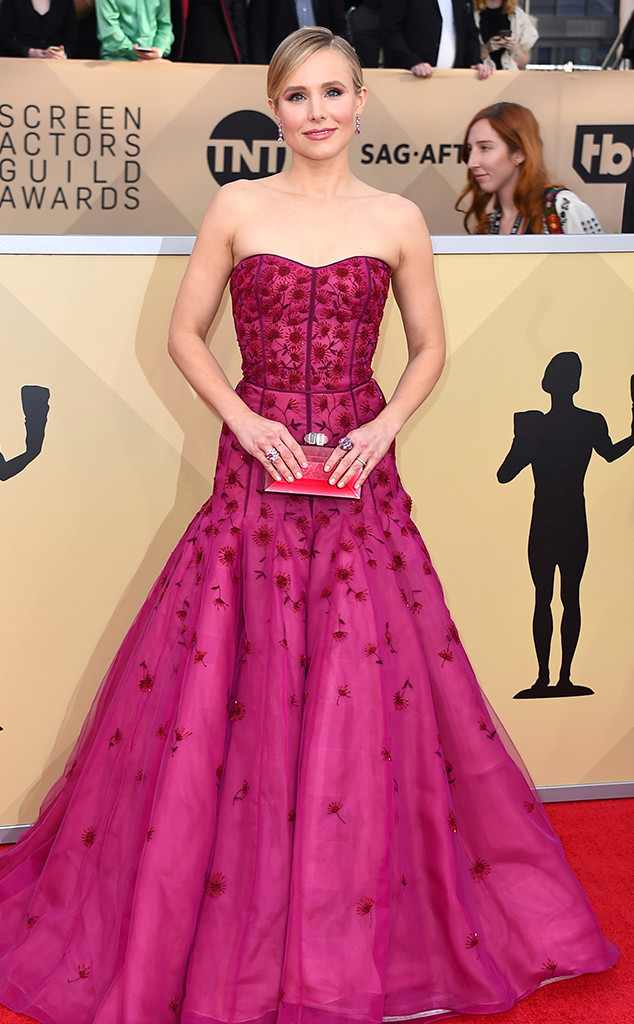 All eyes were on Kristen Bell last night as she hosted the festivities, and they surely staid locked for good reason. This dress was astounding ! I don't think I have ever seen this color on a red carpet, and it was a great choice. It complimented her skin tone and enhanced her artfully simple makeup. The silhouette was the perfect amount of drama to make her really pop, being the perfect choice for her role as host. I was a little disappointed that she did not actually where it on stage.
Tracee Ellis Ross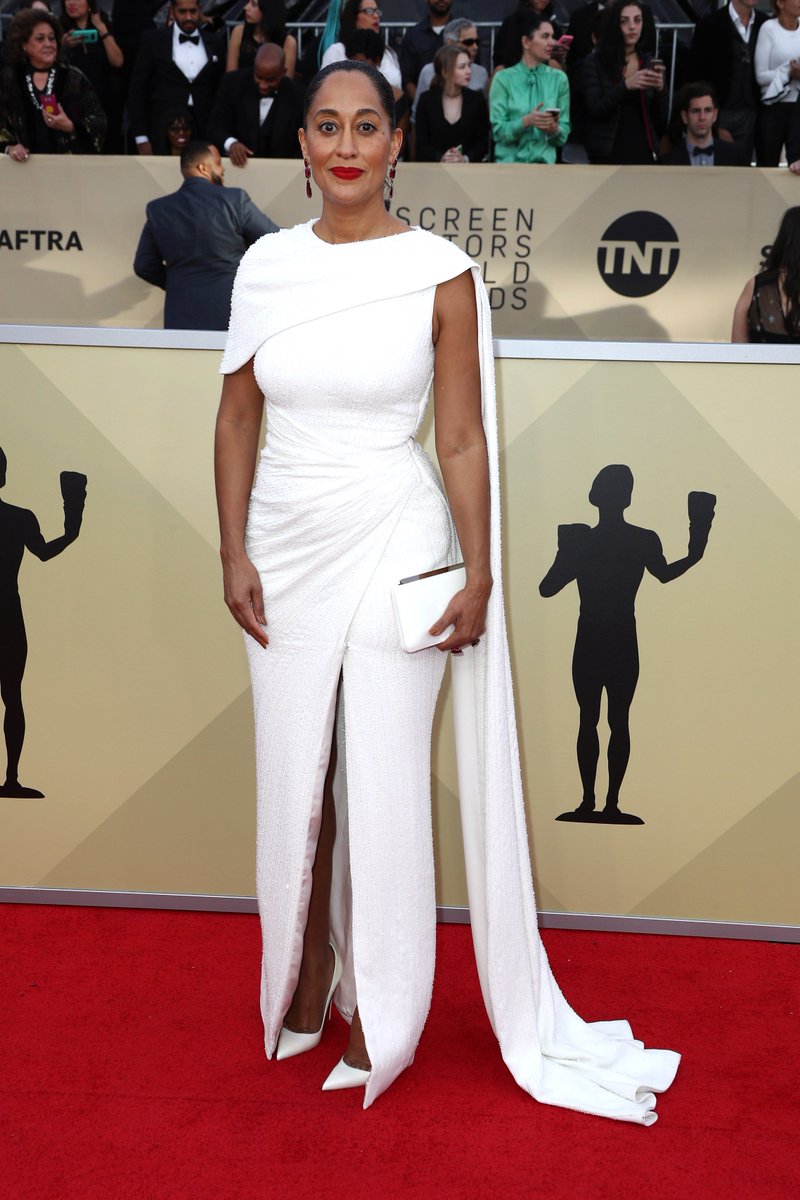 I had to finally give Tracee Ellis Ross some credit because I usually can't stand what she wears,  but this is actually very nice. It wasn't really a stunner by any means, but I could at least enjoy it and appreciate its sophisticated simplicity.
Margot Robbie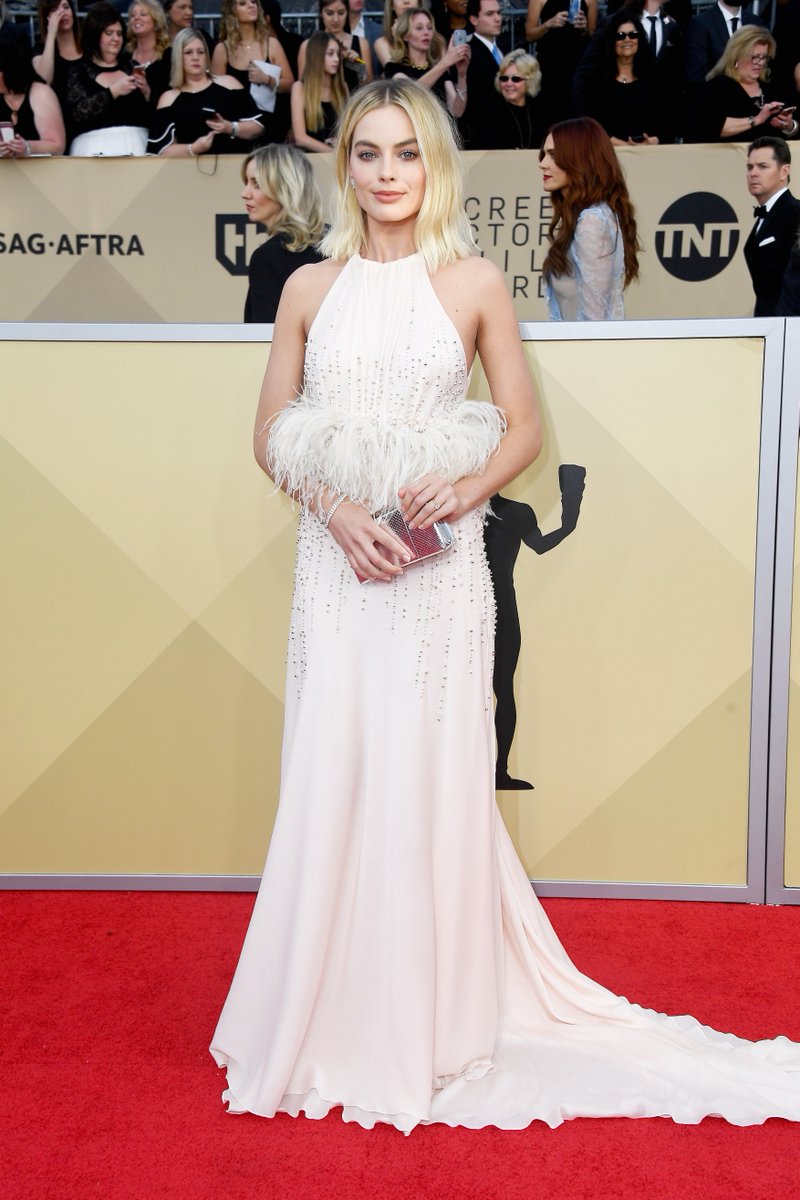 Well Brava! This was a stunning, glamorous masterpiece. The white was muted in a way that let the beautiful beading and feather details to shine. Her hair and make up was also demure yet just the right accent to complement the look. Margot nailed the Hollywood Starlet style.
Dakota Fanning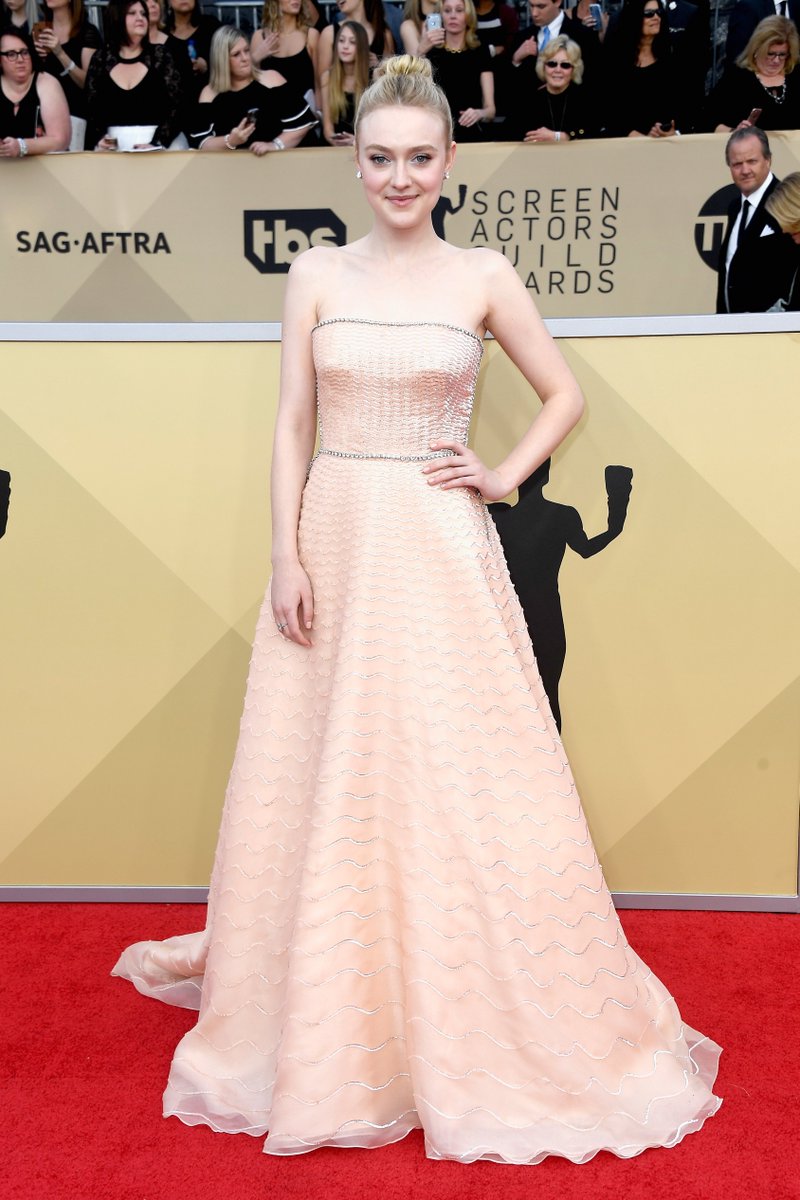 And finally, my bonus look for the evening, Ms. Dakota Fanning. Dakota was glowing in this soft pink gown, that had just the right amount of sparkle with the metallic wave detail in the skirt, and the beading in the bodice. She could have done a little more with her hair and make up, but only minor points off!